BABCOR Custom Retail Packaging Services & Options
---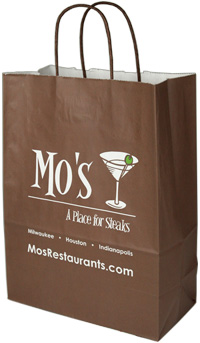 A few of the potential benefits of custom printed / designed packaging:
IMAGE – A book is judged by it's cover, and plain packaging does not usually impress or add value to the buyer. Image can be subliminally or overtly perceived from customizing your packaging.
BRANDING – Putting your logo or "BRAND" identification in front of the buyers at every opportunity is a way to build your business by increasing the recognition and awareness of your business in the market.

ADVERTISING – Many bags or boxes are carried and seen by others, helping to convey the name recognition, and identifying the buyer with the product the packaging carries. Numbers of impressions (subliminal or overt) starts with the original buyer as he picks up the package, and goes through until the package is thrown away.

INCREASED BUSINESS - Features such as takeout meals, private rooms, free delivery of takeout orders, hours of operation, other locations, or catering availability can be featured in the layout of the printed bags or boxes to help raise customers awareness of those services or features of your food service business.

PERCEIVED VALUE - People make decisions on which business to patronize based on their perceptions, experiences or word of mouth, and packaging is certainly an element of everyone's perceptions.
For expert assistance on all of your custom packaging needs please call us toll-free at 888-321-2247.